ShotGrid Toolkit Demos

An app for demonstrating ShotGrid Toolkit building blocks.
Latest Version: v1.3.0 (prod)
For our version numbers, we follow the Semantic Versioning standard.
System Name: tk-multi-demo
Please Note:
This document describes functionality only available if you have taken control over a Toolkit configuration. Please refer to the
Shotgun Integrations User Guide
for more details.
These demos provide demonstrations of Shotgun's native developer platform components including the Shotgun Utilities framework, the Qt Widgets frameworks and Toolkit core.
Documentation
The Demo App provides live demonstrations of Shotgun's native developer platform components including the Shotgun Utilities framework, the Qt Widgets frameworks and Toolkit core.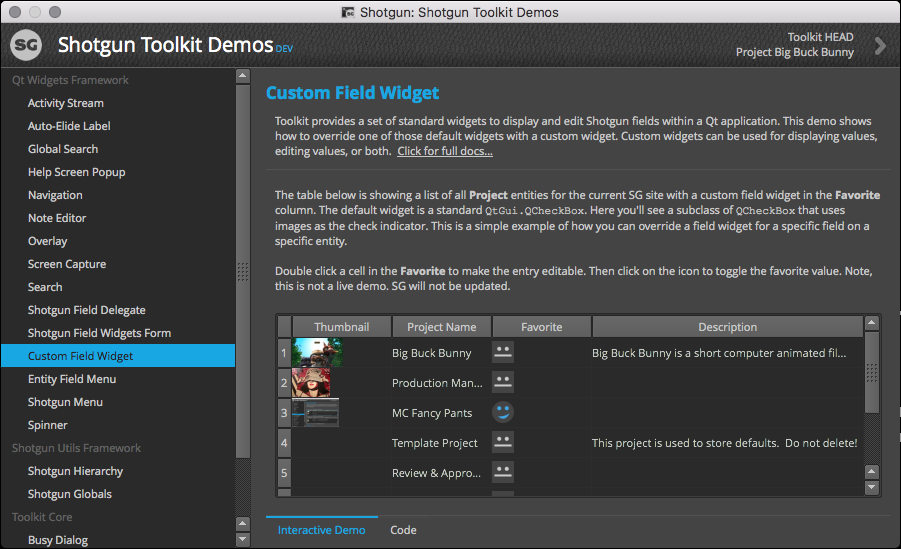 Each demo displayed in the app includes a working, interactive UI that shows how to use one or more components of the native platform. In addition, the code that is running is readily available to copy and paste into your own app.
The app is simple to use. Just select a demo from the list on the left and then interact with the components on the right. Some demos are as simple as displaying a single widget from the Qt Widgets framework. Other demos provide examples of how Shotgun platform components are commonly wired up for use in production apps.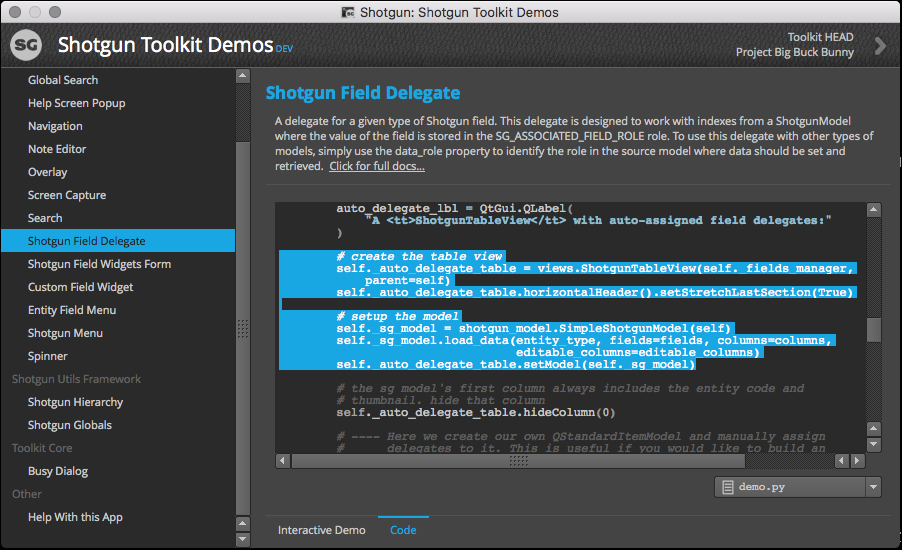 New demos will be added as new components are added to the platform and as time permits. If there is a common pattern of component usage or a demo that you'd like to see, please let us know by submitting a ticket.
Installation
To install the demo app, run the following command:
tank install_app project tk-shell tk-multi-demo

Once installed, you can run the following command to launch the app:
./tank demos
Installation and Updates
Adding this App to the Shotgun Pipeline Toolkit
If you want to add this app to Project XYZ, in an environment named asset, execute the following command:
> tank Project XYZ install_app asset tk-maya tk-multi-demo
Updating to the latest version
If you already have this item installed in a project and you want to get the latest version, you can run the update command. You can either navigate to the tank command that comes with that specific project, and run it there:

> cd /my_tank_configs/project_xyz
> ./tank updates

Alternatively, you can run your studio tank command and specify the project name to tell it which project to run the update check for:
> tank Project XYZ updates
Collaboration and Evolution
| | |
| --- | --- |
| | If you have access to the Shotgun Pipeline Toolkit, you also have access to the source code for all apps, engines and frameworks in Github where we store and manage them. Feel free to evolve these items; use them as a base for further independent development, make changes (and submit pull requests back to us!) or simply tinker with them to see how they have been built and how the toolkit works. You can access this code repository at https://github.com/shotgunsoftware/tk-multi-demo. |
Special Requirements
You need Shotgun Pipeline Toolkit Core API version v0.19.1 or higher to use this.
Configuration
No Configuration Needed!
This item does not have any options to configure!
Release Notes
Welcome to the release notes for this App. Below you will find an overview of all the changes we did for each release. We try to be as detailed as possible and include all bugs we have fixed, features we have added and things that may have changed. If you have questions about a particular release, don't hesitate to contact our support team!
v1.3.0
2021-Jun-09
Rebranded to ShotGrid
v1.2.0
2020-Jan-22
Adds Python 3 support.
v1.1.0
2018-Sep-19
Adds hyperlink demo. Fixes various thread-leaking issues that caused some stability problems in some environments on close.
v1.0.2
2018-Feb-07
Adds context selector widget demo
v1.0.1
2018-Jan-17
Adds context selector widget demo
v1.0.0
Initial release of the Demo App